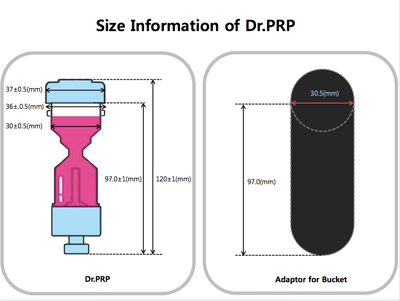 The Dr. PRP device allows you to create platelet-rich plasma (PRP) at the concentration that you need. This creation process begins with a blood sample and a centrifuge.
Centrifuges spin a sample of the patient's blood to separate the components: the PRP, the RBC (red blood cells), and the plasma. And from their size to what they can hold, there are many types of centrifuge machines on the market.
It's all about finding the machine that works for you. Check out our catalog today!
Centrifuges Compatible with Dr. PRP Kit
Some swinging-out centrifuges are compatible with the Dr. PRP kit, such as BioMet, EmCyte, Harvest, and ELMI centrifuges.
You'll need a centrifuge that has an adapter to hold the Dr. PRP safely. Thankfully, we offer adapters for these Harvest, EmCyte, and BioMet centrifuges.
If you are interested in learning more, email us the model number and a picture of the inside of your centrifuge to [email protected].
The Benefits Dr. PRP Centrifuges
To use the Dr. PRP kit, you'll require a high-speed lab centrifuge, one that can rotate at 3,400 rpm for 4 minutes, and then 3,500 rpm for 2 minutes.
The centrifuges we sell reach these speeds, and each has unique specifications and benefits.
We also sell lab carts for the PRP centrifuges.
Centrifuge for PRP With Accessories
Also known as the CM-7S, this FDA-registered device contains the patented SkySpin™ motor controller and Sensorless Accu-Logic architecture.
The specifications of this slim and durable design are as follows:
43 cm long, 41 cm wide, and 22 cm tall
weighs 12.6 kg
100-3500 rpm rotor rotation speed
2300 rcf centrifuge force
100-240V 50/60Hz voltage and frequency
With a transparent lid, this is a compact, variable-speed benchtop, and a swing-out centrifuge that's great for clinical use.
The CM-7S:
has a service-free drive
has four carriers/buckets
has a 1-99-minute timer setting
is compatible with 4 interchangeable swing-out rotors and various adapters (the latter sold separately)
Soundless and non-heating, the CM-7S utilizes an LCD with adjustable sound and brightness. Along with easily accessible "Open" and "Start/Stop" buttons, you can also adjust the balance and speed.
CM-7S is safe in refrigerator temperatures. Other safety features include:
an automatic lid lock
a digital rotor imbalance sensor
a highly-responsive braking/rapid acceleration system
automatic stop if the rotor becomes unbalanced or the lid opens
We also offer the CM-6T centrifuge rotor.
Large Capacity Platelet-Rich Plasma Centrifuge
This horizontal centrifuge is programmable, meaning that you can customize your PRP-creating process. Don't let its bulky size fool you either – the machine is both quick and operates quietly.
Here's what to expect when you order one:
38 cm wide, 43 cm in diameter, and 23 cm tall
weighs 17.7 kg
a max G-force/speed of 2,000 xg at 3,400 rpm
a maximum centrifuge force of 2,000 rcf
a voltage of 95-253V
a frequency of 50/60Hz
a sound level of 59 dBA
a custom rotor & bucket
a Brushless DC motor
a durable lid and reinforced guard bowl
an automatic lid lock
lid lights that indicate 3 cycle statuses: ready, running, done
The centrifuge is multipurpose. It is designed for general cell/tissue processing, PRP, PPP, serology, cytology, STAT, coagulation, urinalysis, and clinical chemistry. It also:
produces horizontally, high-quality separated samples
has three preset settings for urine, chemistry, or coag
can recall ten saved, easily customizable cycle settings
can maintain cool temperatures while handling heavy workloads
has buckets for 50 mL tubes available
is certified to European, Canadian, and U.S. safety standards
possess a 2-year warranty, with a choice of 1, 2, or 3-year warranty extensions
does not require routine maintenance
Call Us Today!
Your machine is a click away. Search for a centrifuge, or fill out the contact form to learn more about our Dr. PRP kit today.