Published: 08/18/2017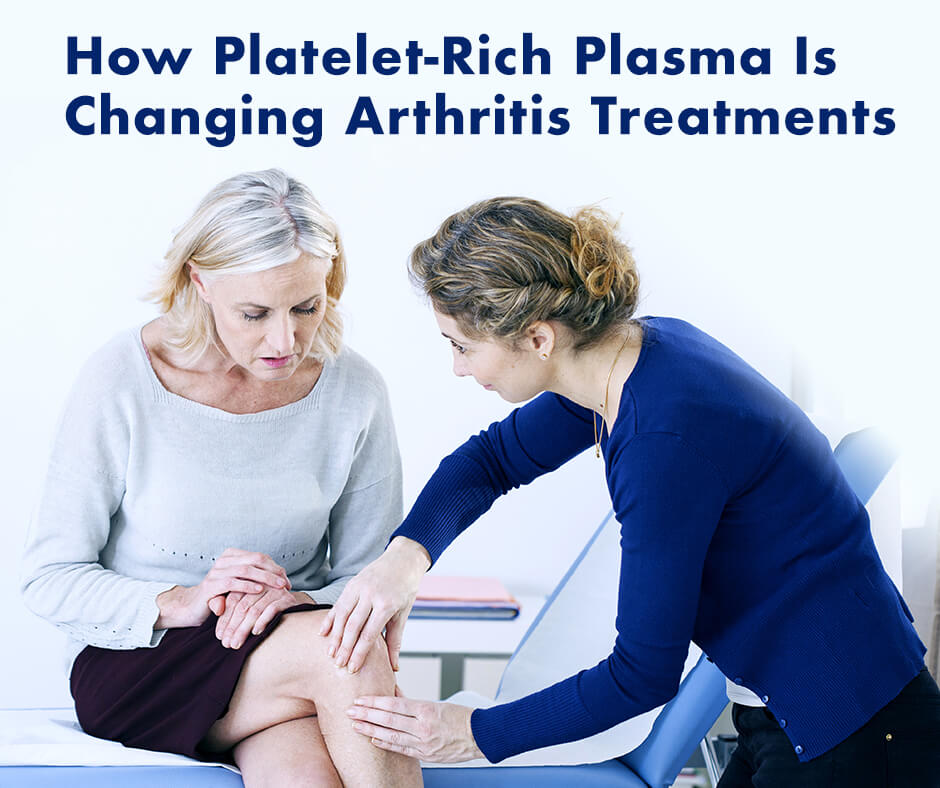 From a mere 6% in 1940, the rate of knee arthritis in our nation has jumped to almost 16% to become one of the top causes of disability. The consequences are paramount as arthritis doesn't just affect knees – it overpowers people with fatigue, pain, depression and even difficulty getting out of bed. Over the past few years, Platelet-Rich Plasma has quietly emerged as a savior for many of these patients. It ushered in the anabolic era of treating Arthritis.
Of course, this coincides with Platelet-Rich Plasma's skyrocketing adoption rate and it's media popularity. In fact, it has become so popular that, there is even a research paper about it's popularity!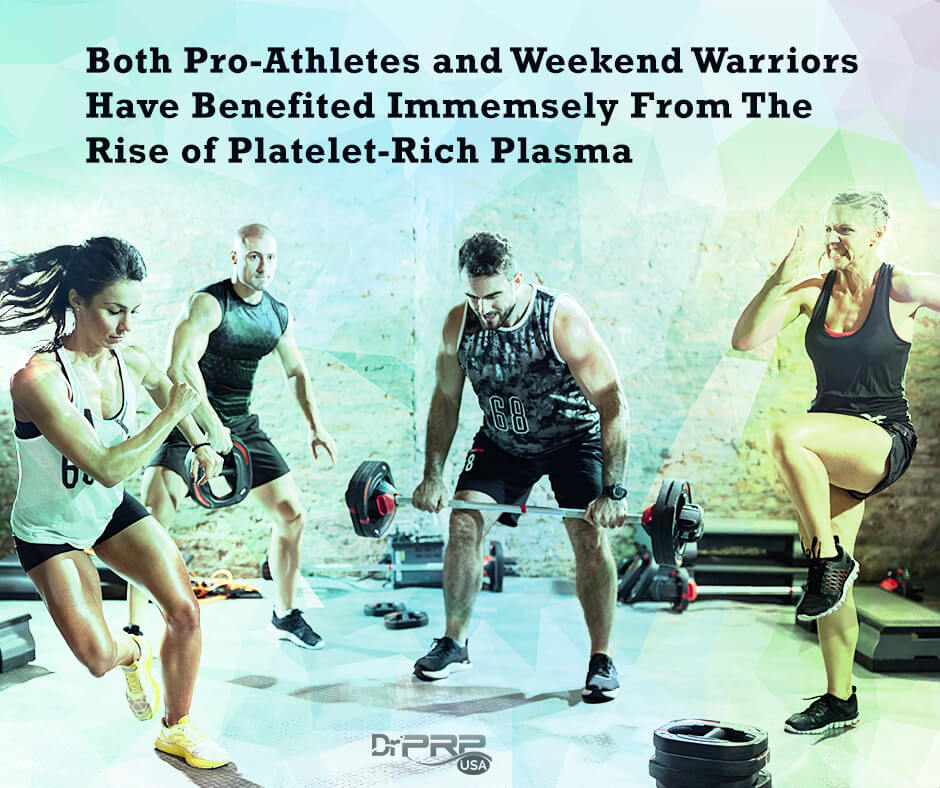 How Platelet-Rich Plasma Is Changing Arthritis Treatments
Traditionally, the only road available for chronic knee arthritis patients was the road to total knee replacement. It will start out with the administration of corticosteroid injections. After going through that for quite a bit, the patient will show no further progress and the surgeon would suggest knee arthroscopy for debridement of affected tissues. That would feel better for a while before the patient returns for more. The surgeon would then give them a date for total knee replacement.
All of that has changed with Platelet-Rich Plasma and Stem cell treatments. Now, we have found out that the best bet we have is to administer Platelet-Rich Plasma at the earliest stages of knee arthritis to regenerate the affected tissues as soon as possible. Platelet-Rich Plasma, with its growth factors and cytokines, not only relieves the symptoms but it is proven to reverse the condition as time goes by. It creates a very beneficial, positive cellular change in the joint pathology.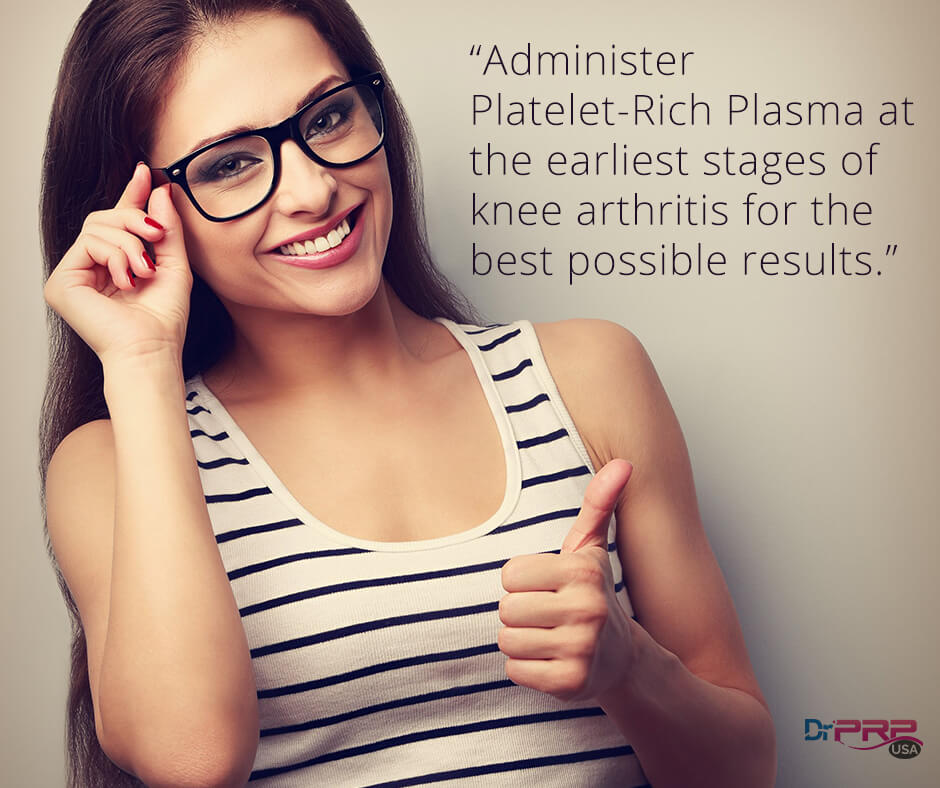 All of that without the adverse effects of an invasive surgery.
Proven Regeneration Tool Abandoned By The Big Pharma
Right now, Platelet-Rich Plasma is used for a number of musculoskeletal conditions like Rotator cuff injuries, Tennis and golfer's elbow, Ligament strains, Knee instability, Chronic back pain, Knee and Achilles tendonitis and more. There is no adverse effects or long term implications. Few other treatments can match this record. The important distinction to be made when comparing Platelet-Rich Plasma with other existing treatments is its regeneration potential. Injecting PRP doesn't just correct the condition – it has the potential to make it a little better than before. As far as research is concerned, most of the PRP literature concerns around knee osteoarthritis. Here's a Level 4 systematic review and a more recent Level 1 systematic review of 10 studies with a total of 1069 patients if you want to verify the results.
Of course, it doesn't mean all you need is a couple of PRP Injections and things will be better. Or maybe that's it?
If the big pharma is able to package this and market, they would've carved out a multi-billion dollar market by now. But they can't because the primary raw material – blood – has to be autologous and fresh for this to work efficiently. Some researchers are exploring the possibility of freeze-drying Platelet-Rich Plasma. This may or may not work depending on how well it can preserve the key elements of Platelet-Rich Plasma – the bioactive proteins in the platelets, plasma and white blood cells.
According to Bert Mandelbaum, MD, DHL (Hon), Chairman of Santa Monica Orthopaedic & Sports Medicine Foundation and Co-Chair of Medical Affairs at the Institute of Sports Sciences, Cedars-Sinai, Platelet-Rich Plasma is more promising than stem cells. See his recent article in Medscape here.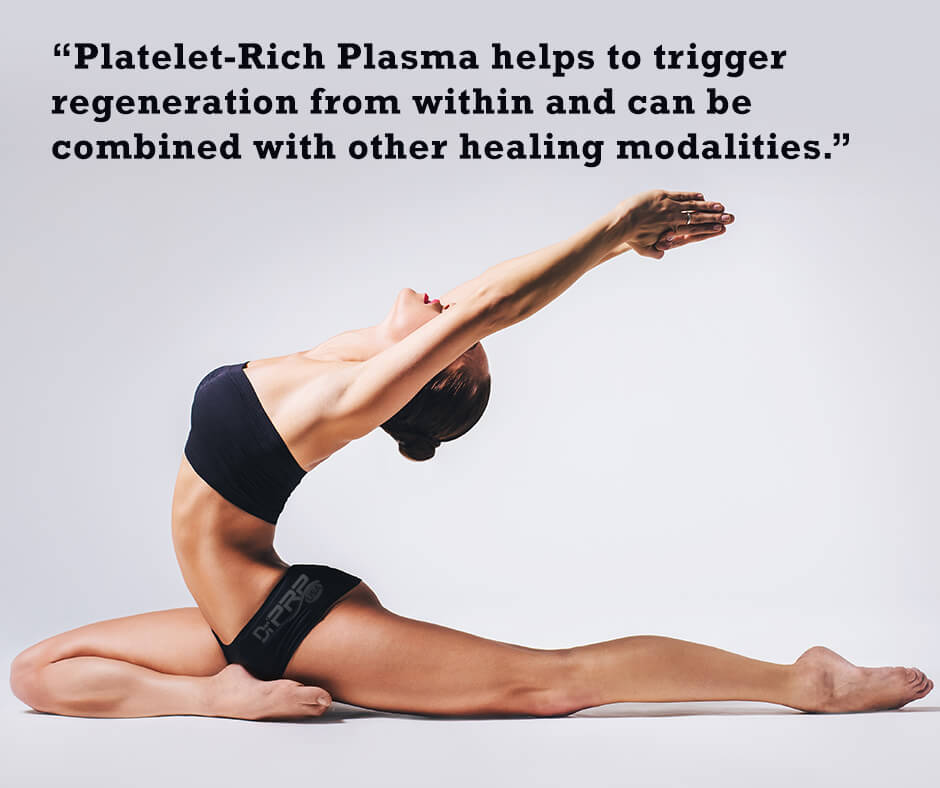 Still there are plenty of doctors who comes to us asking, "Where is the research? The FDA-cleared prospective, multi-center, sham-controlled, randomized, double-blind clinical trials?" Actually, the FDA is hard at work clearing devices that provide relief of pain and symptoms associated with knee osteoarthritis (OA) for up to 90 days by nitro-freezing the nerves!
Many Research, Many Doctors
The amount of research from independent research institutes around the world on Platelet-Rich Plasma is just a tad bit overwhelming. New findings are published almost every month on the topic. The vast number of research mirrors the immense potential of PRP Injections. And for knee osteoarthritis, there is already unquestionable proof.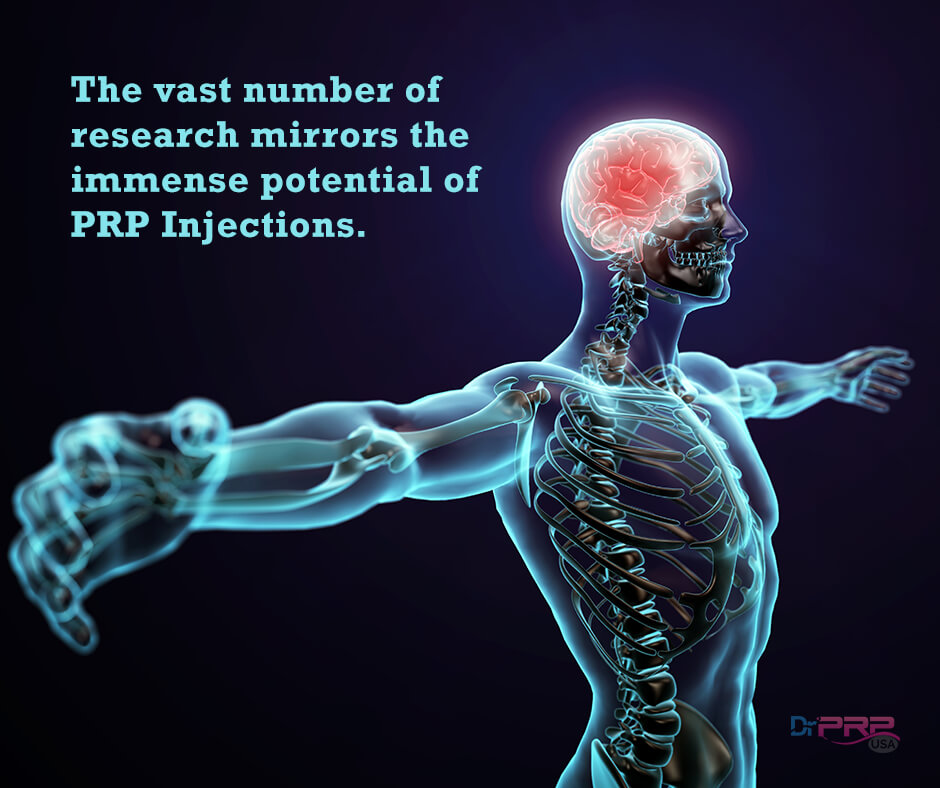 Here are some of the advocates of Platelet-Rich Plasma:
Caring Medical's Ross Hauser, MD has written a well-researched article about Platelet-Rich Plasma for knee osteoarthritis here.
Dr. Lewis G. Maharam, MD, FACSM, one of the world's most extensively credentialed and well-known sports health experts known as Running Doc™, always show great enthusiasm when describing Platelet-Rich Plasma.
Best selling author and team physician of Philadelphia 76ers, Dr. Nicholas DiNubile MD recently wrote an article saying Platelet-Rich Plasma may make knee-replacement surgeries a thing of the past.
Famous Long Island physician Dr. David J. Weissberg, MD, says for his patients, with just one shot of PRP, in general, gets relief from their problems without any need for surgery and slow but progressive cure in their problems.
Dr.Kevin F. Darr, M.D., a national leader in orthopedic medicine and a visionary in cell therapy, combines PRP with other cell therapies and finds the results "outstanding." Dr. Darr is one of the fifteen physicians selected to participate
in an FDA approved Level 1 clinical study utilizing cell therapy techniques. Here's a recent testimonial from one of his patients.
Of course, there are many more. But for those who're skeptical in trying Platelet-Rich Plasma or even offering them to their patients – a doctor once told me he's skeptical because he might appear as a greedy physician to his patient if he offered unproven techniques for the sake of trying it – they can rest assured that many nationally reputed doctors are ardent fans of this therapy. Plus, there's really no risk in trying it.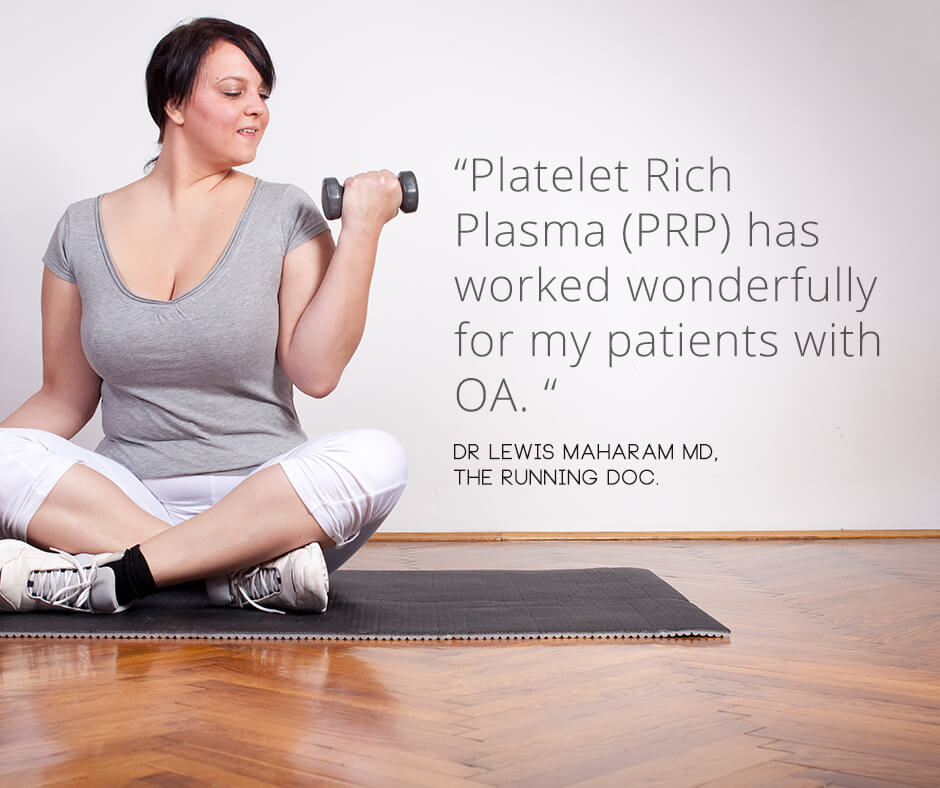 The Best Approach For Skeptical Doctors
We know many of your patients rely on medical insurance coverage for their osteoarthritis and other treatments. And many of them are pensioners. Asking them to pay out of their pockets for a treatment that you yourself have doubts in – that's impossible. While we hope the insurance starts accepting it (read more about insurance coverage for prp injections), we can't just ignore the results. You've seen the research, and heard the testimonials and read the media pieces.
So instead of wondering whether it might work – why not give your patients a try. Give the first treatment for FREE. Yes, I'm suggesting you let your patients try it out for FREE.
From what we've seen so far, once patients clearly experience the healing results – they'll come back for more and you'll more than make up for the FREE treatment you provided them.
We've seen over and over again – in several clinics – that patients always come back for more.
Like this case from Dr. Payel Banik's office. (Dr. Payel is the owner of Osteopathic Healing Hands, Houston, TX.) The patient in the video below explains why he'd come back for more.
Offer Your Patients A Free Platelet-Rich Plasma Injection
So what do think? Are you going to stand on the lines and watch until government regulatory boards mandate PRP for osteoarthritis and other conditions? Or are you going to start helping your patients right now? Start offering it for FREE so that YOU will be convinced that it works. And win over your patients in the process. And watch them come back for more.
The choice is yours.
If you're seeing a lot of patients with intermediate to advanced stages of osteoarthritis or other similar musculoskeletal conditions, offer them a FREE Platelet-Rich Plasma injection starting today. We're very confident that it will make the fall in love with this treatment for life! There will be plenty of referrals for you.
All you need is a PRP Kit and a compatible centrifuge and you're good to go. Call us at (844) 377-7787 if you need more info.