Published: 08/04/2015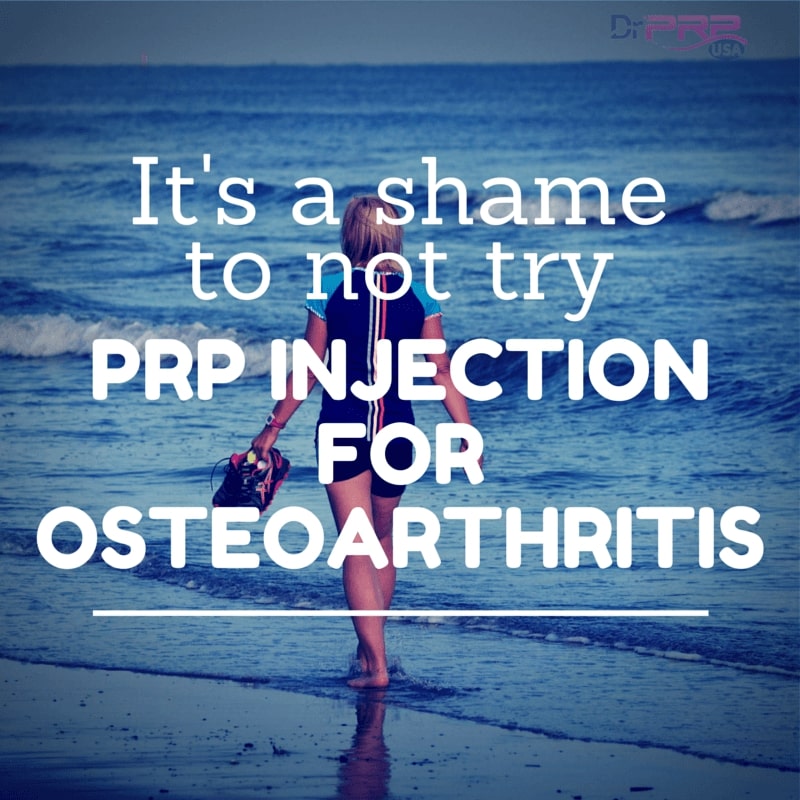 Approximately 600,000 people seek treatment for Osteoarthritis here in the US every year. Half of them are for knee. Our nation spends more than $150 billion dollars for the treatment. Unfortunately, knee experts (mostly surgeons) believe that there's no cure for knee degradation. They believe knee-replacement is the only option. Is this true? Let's take a look.

What is Osteoarthritis And How to treat it?
Osteoarthritis is the most common form of arthritis in the knee. It is a degenerative "wear and tear" type of arthritis that can affect people of all ages. It results when cartilage in the knee wears out.
The natural solution to this problem is to repair the cartilage. Except that surgeons believe there's no solution that can repair and renew cartilage in the joints especially knee and hip. Or is there?
A report from Bioresearch Foundation of Milan, Italy, shows us there is. Platelet-Rich Plasma.

PRP for Osteoarthritis
The guys from Bioresearch Foundation did a 2-year study on 93 patients with advancing osteoarthritis — meaning they were the kind of candidates that opted for arthroscopic surgery. The researchers then administered a simple course of 3 monthly PRP injections instead of surgery.
A total of 119 knees were treated. After 12 months, they randomly increased the dosage of 50 patients to 6 monthly injections.
The results were this: All of the patients experienced significant improvement in pain, mobility and disability score — this was tested throughout and after the 24 months. Of the 50 patients who had 6 monthly injections after month 12, enjoyed even more improvement. Surgery was completely unnecessary for all of them by this point.
What does this say?
It's in the title of this blog post: it's a shame to not try PRP.
Consider a knee or hip replacement very carefully. Sometimes, a worn out cartilage isn't the cause of the pain as shown by the famous Framingham study group in the New England Journal of Medicine. Even though MRI's show cartilage wear and tear, most people have them as well. Plus, for a good number of patients, their results after surgery is far less that what the patients at Bioresearch foundation had after Platelet-Rich Plasma injection — it's not uncommon for patients to experience more pain after surgery.
Here's an infographic to remind you of your options for Osteoarthritis.