Published: 08/23/2017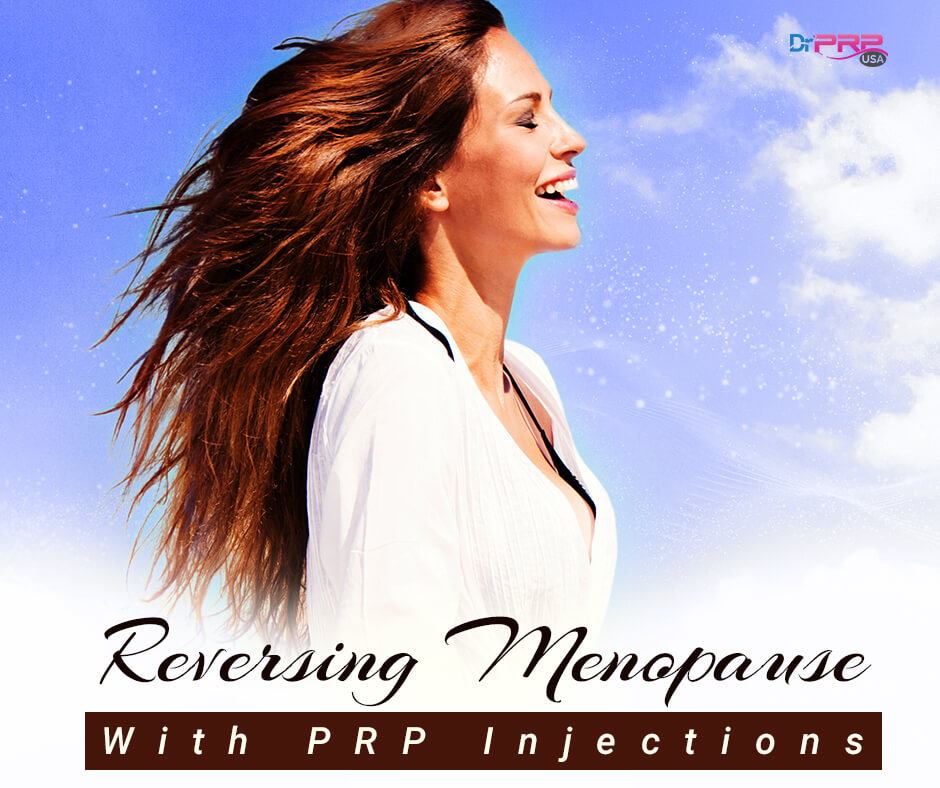 Infertility doesn't just affect a woman's capacity to give birth. It also crushes her hormone levels and her emotional ecosystem. So when you hear the statistics that say one in eight women are clinically infertile, that's a big hole in society as a whole. The lack of simple treatments for fertility correction hasn't helped the situation either. But that may just change in the near future. Right now, one company is conducting a clinical trial to prove how simple it can be to regenerate ovaries and even reverse menopause. All it takes is a Platelet-Rich Plasma Injection directly into the ovaries. The results from this trial could change the lives of thousands of women worldwide.
Validation of An Idea Whose Time Has Come
Although menopause and infertility are two separate issues altogether, they're both a function of a healthy ovary. The healthier the ovary, the less chances of menopause and infertility. Platelet-Rich Plasma has long proven it's chops as a basic regeneration material capable of restoring tissues to its healthy state. So if the simple PRP injections can restore hair follicles, manage wounds, heal ligaments, repair joints, restore spinal discs and even regenerate bones, can it also be used to rejuvenate women's ovaries? We have to thank researchers in Greece who'd popularized this novel idea starting in 2015.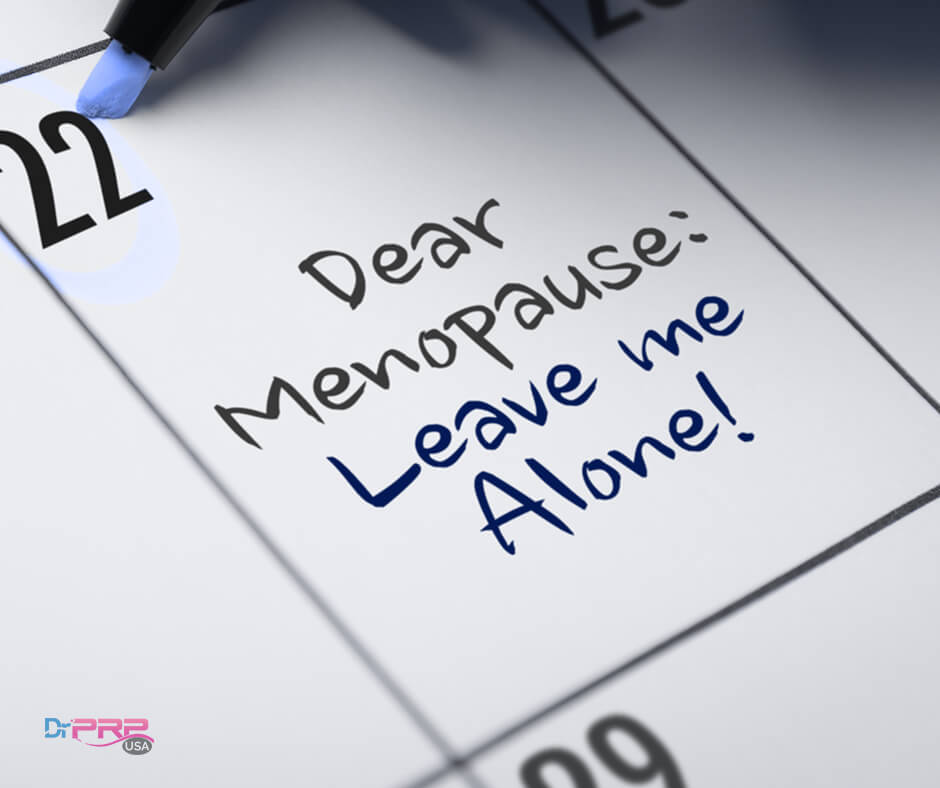 It All Started In 2006
Traditionally, women are thought to have born with a fixed number of eggs. And for long, the scientists believed that the "natural" course would be for the eggs to get depleted over time causing women to start producing lower and lower quantities of estrogen, the primary female sex hormone. Once the eggs are depleted, they enter menopause and lose their ability to conceive. But a study in 2006 shattered this paradigm. It revealed an interesting phenomenon in female mice where the mice continued producing eggs long after menopause. The key idea this research put forth was that infertility was not a function of "running out of eggs." Instead, it's a direct consequence of an ovary which had become unhealthy.
That opened up possibilities in the mind of Dr. Jonathan Tilly, who had conducted the research on female mice, and he became determined to find a way to "revive" ovaries. Then one fine day, he heard of a research where women who'd received bone-marrow transplants mysteriously had regained their fertility. The rest as they say is history.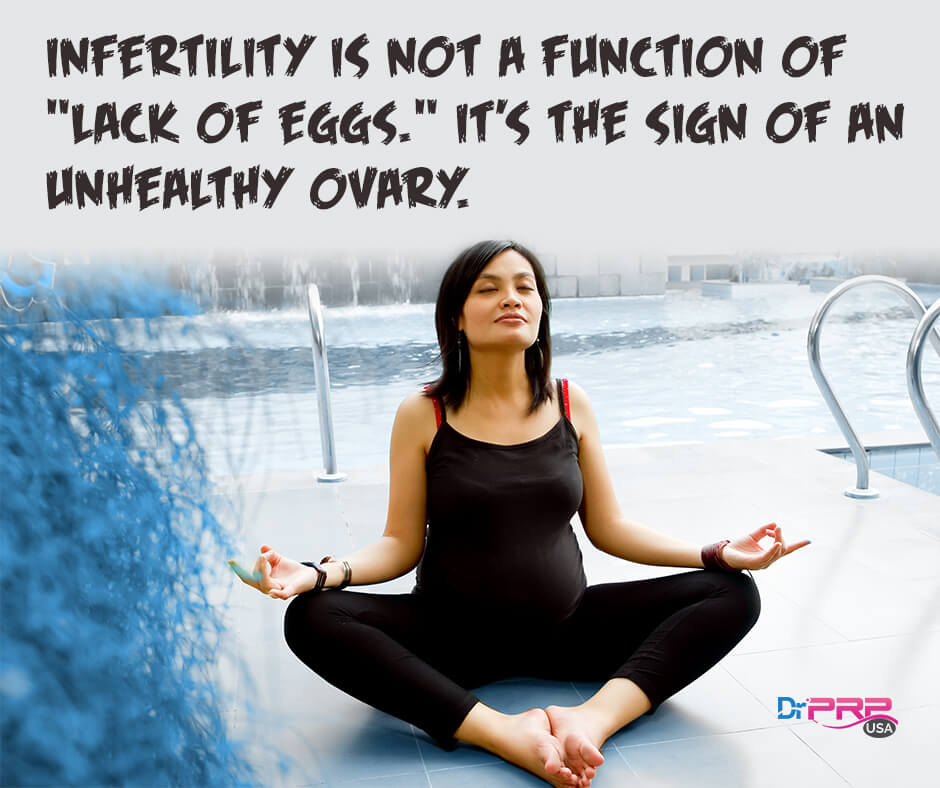 The Power Of Growth Factors
It didn't take long for Dr. Tilly to discover that it was the growth factors in bone marrow that was rejuvenating the ovaries – the same growth factors that were available in Platelet-Rich Plasma. But for some strange reason, he did not follow up on that route with ovarian rejuvenation. His company, OvaScience, instead pursued its EggPC IVF method called Augment – which is a super complex process of producing healthy eggs with the aid of mitochondria taken from EggPC cells. The procedure has not been a big success and they have since been focussing on other treatments since.
Fast forward to 2015 and there was a Chinese study that established that Platelet-Rich Plasma can indeed rejuvenate ovaries. They demonstrated it on five women with thin uterine linings all of whom were able to conceive babies after a treatment based on the intrauterine infusion of PRP. At about the same time, a Greek fertility clinic began testing this idea much more aggressively and found that rejuvenating ovaries with Platelet-Rich Plasma worked for both women in various stages of menopause as well as those who had uterine complications. They began testing the effects of trans-vaginal ultrasound guided PRP injection into the ovaries of women. The primary researcher behind it is Kostantinos Pantos and he and his team had injected Platelet-Rich Plasma for over 180 women between 34 and 51 years of age and the results have been promising.
"Success In Two-Thirds Of Cases"
According to Dr. Pantos, in about two-thirds of the cases, he's able to identify changes in hormonal patterns, reactivation of menses and egg production. He says, "Women who have been in menopause, whose ovaries aren't working, who've ceased to produce follicles — they're ovulating." Once the women start ovulating, Dr. Pantos then sends them to an In Vitro Fertilization (IVF) center for artificial insemination.
Dr. Pantos and his colleague Dr. Sfakianoudis talks about their patient, a 39-year-old from the Netherlands, who had been slowly entering Menopause and had not had a period in four years. She began menstruating again just a month after the PRP injections to her ovaries. ONE MONTH LATER!
In another case, they reversed menopause in a 45-year-old woman who'd been in menopause for 5 years since the age of 40 with just a simple PRP injection on her ovaries.
After several such cases, the greek doctors became convinced that the same essence of Platelet-Rich Plasma which is capable of regenerating damaged skin, muscles, and bones can also regenerate the ovary.
Back home in New York, the famous fertility clinic headed by Dr. Hugh Melnick, also started offering the ovarian Platelet-Rich Plasma treatment.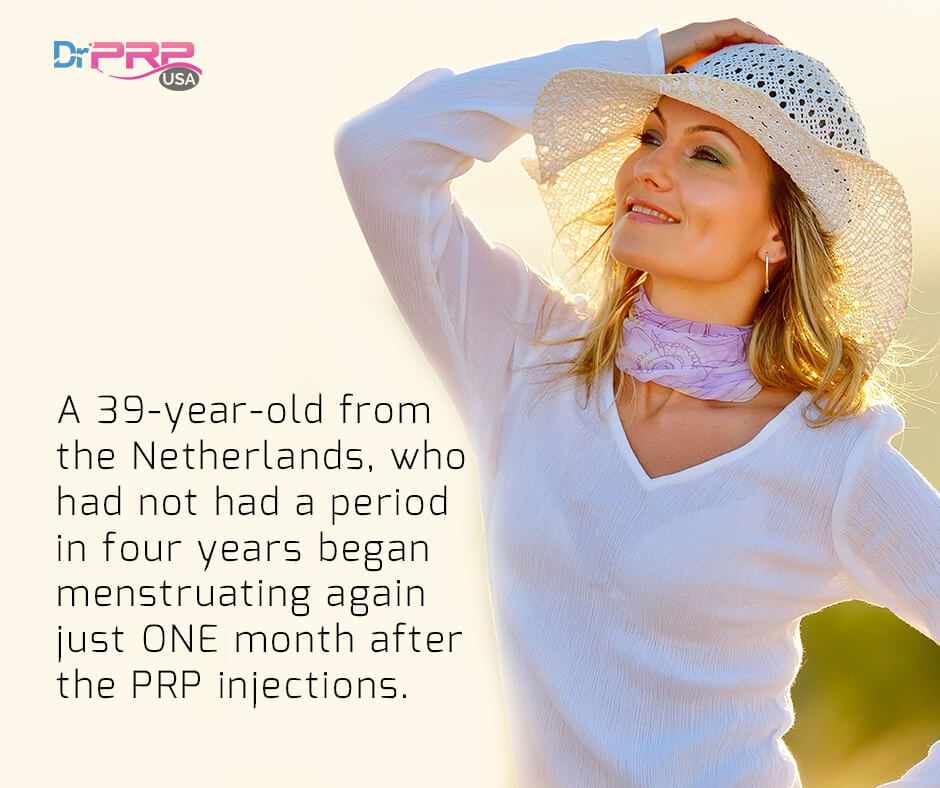 "An Astounding 75% Success Rate In Pre-Clinical Trial"
The discovery of the Greek clinic and its adoption by Dr Melnick, caught the attention of the fertility researcher Dr. E. Scott Sills, who after investigation, became convinced that the treatment holds tremendous potential. Here's a video of Dr. Sills on The Doctors Show telling the audience why he believes in the treatment.
Dr. Sills then partnered with the Greek clinic to initiate the long process of clinical trials. Pre-clinical studies conducted in late 2015 showed that the treatment was successful in 45 out of 60 women – an astounding 75% success rate and the women were between 45 and 64 years of age.
Their success meant that they could initiate a full clinical trial and found a sponsor – a biomedical company named Ascendance Biomedical headed by Aaron Traywick. Their goal is to publish a peer-reviewed journal. And they got two well-known Berkeley scientists Michael and Irina Conboy to be the advisors for the project. The trials will be headed by Dr. Sills at his Carlsbad, CA based fertility research center, Center for Advanced Genetics.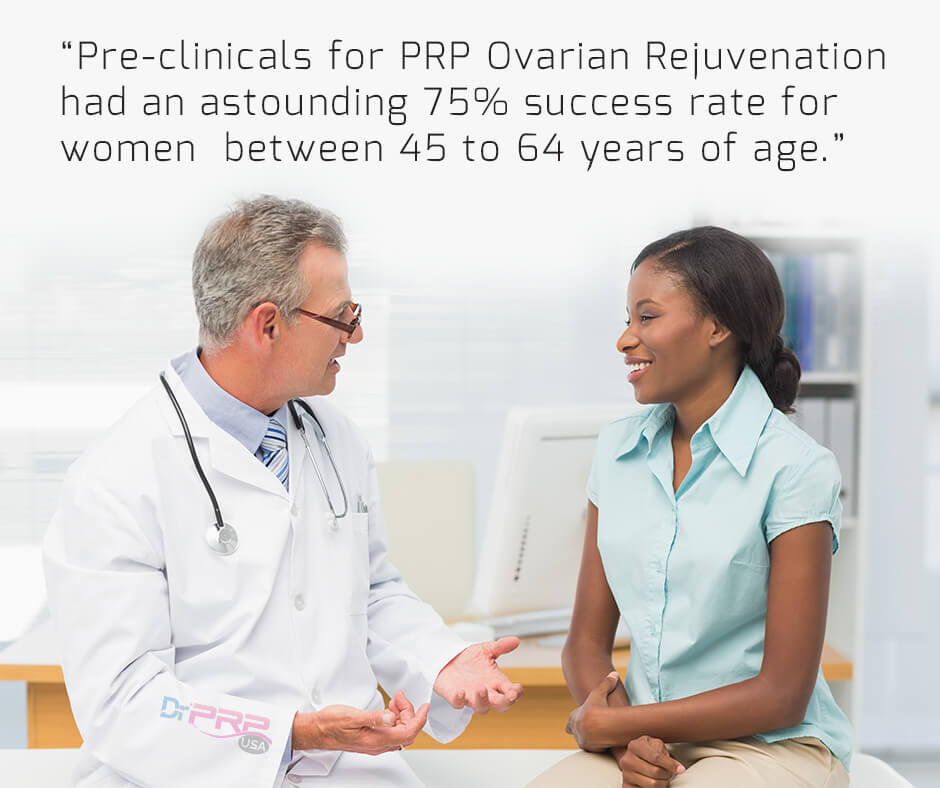 Innovium – The World's First Pilot Trials In Ovarian Rejuvenation
Dr. Sills' clinical trial, named Innovium, is the world's first pilot trials in "Ovarian Rejuvenation" using Platelet-Rich Plasma and is limited to just 50 women who're in menopause and have had at least one failed IVF cycle. Participants will undergo inter-vaginal ultrasound guided PRP Injections in both of their ovaries and are required to commit to a full IVF session at the facility. By controlling both the Ovarian Rejuvenation therapy and the IVF, Dr. Sills hopes to increase the success rates dramatically.
Managing Director Aaron Traywick has another interesting take on their clinical trials. He says:
"The goal of the trial is not to prove that we can reverse menopause, because over and over again in our treatments, we know that this is the result. We also know that the treatment triggers a whole body response that restores hormones to the levels of youth. Now, we want to see if the rejuvenation is a permanent one, and if we have discovered a connection between the loss of fertility and the damaging effects of aging in the body."
So the big picture here is the possibility that Platelet-Rich Plasma Injections can reverse the effects of aging. Very promising.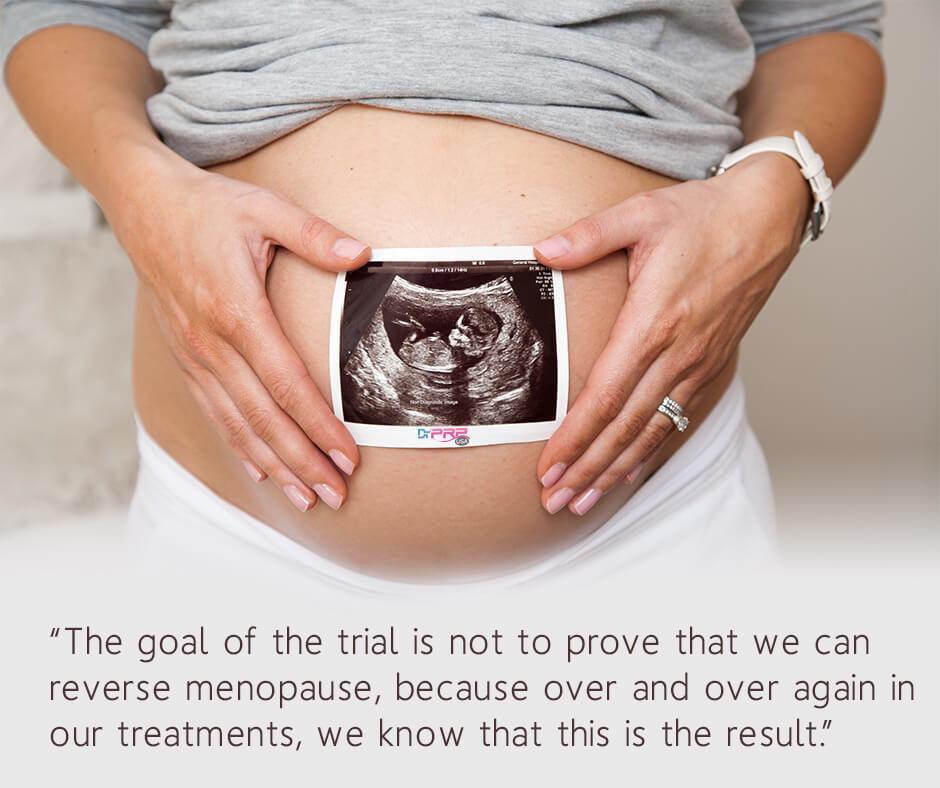 Restores Hormone Levels To The Levels Of Youth
One of the secondary effects of Ovarian Platelet-Rich Plasma treatments is the change in Hormone levels. Dr. Pantos notes that in those women who had a successful outcome, their hormone levels returned to the level of their youth. According to the Innovium team, during the pre-clinical trial on 60 women, the hormones – Luteinizing Hormone (LH), Follicle-Stimulating Hormone (FSH), Estrogen, and Anti-Mullerian Hormone (AMH) – had returned to youthful levels in all 45 patients for whom the treatment was successful.
This is kinda big deal because it means it's not just about restoring fertility – Ovarian Platelet-Rich Plasma injections can eliminate or reduce the mood swings, memory loss, lack of focus, irritability, weariness, hot flashes, night sweats, stress, anxiety and depression associated with Menopause. Plus, it can also restore the the water-holding ability and elasticity of the skin. Few can argue that this isn't a remarkable development in modern medicine.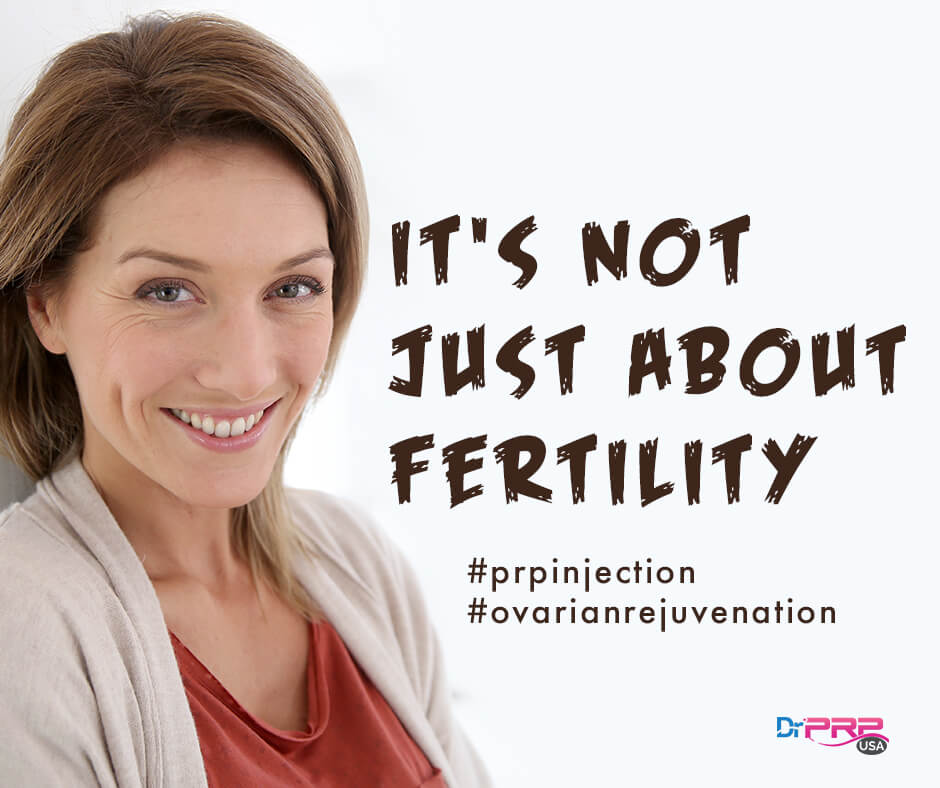 Significantly Cheaper Than Existing Methods
What's even more amazing is the fact that Ovarian Platelet-Rich Plasma Injections are relatively cheap compared to other Stemcell-based and mitochondria-supplementing methods which goes for upwards of $24,000, even some going for more than $34,000. At the time of writing, Dr. Hugh Melnick's clinic charges only $4000 for the treatment and we believe the price will be substantially more cheaper as more and more physicians start offering it. Therefore the outcome of this clinical trial may well redefine the future of Platelet-Rich Plasma and we could not be more excited. That's why we encourage our physicians friends to get on board as soon as possible so they can contribute to the development of this novel procedure.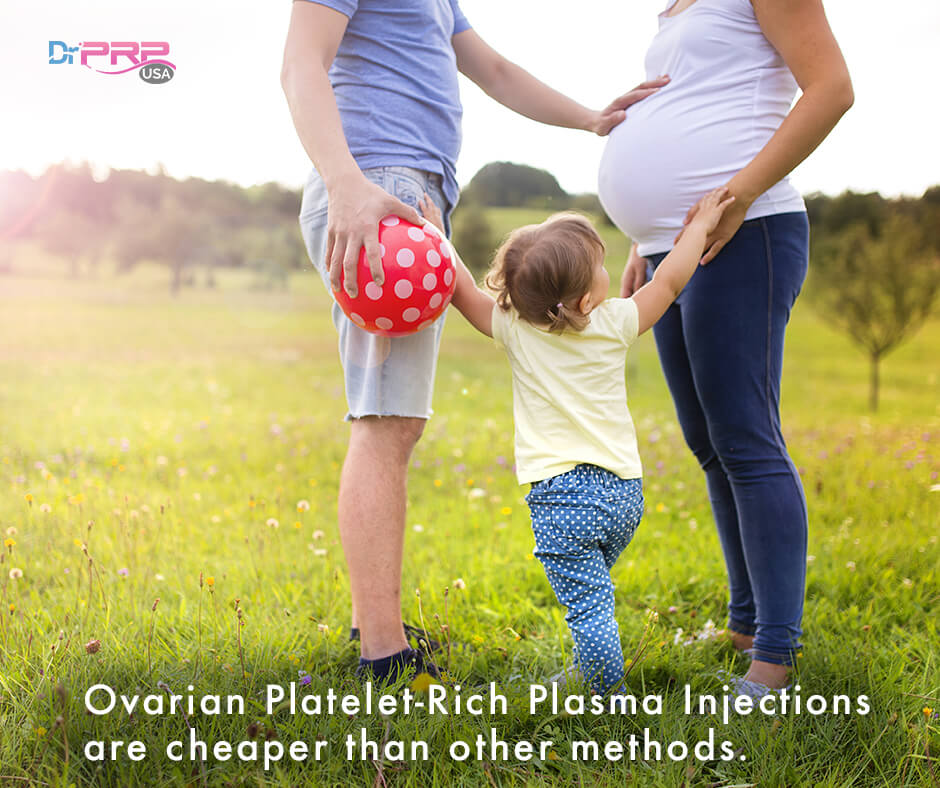 Another Trial By University of California San Francisco
This isn't the only clinical trial either. There is another one by UCSF where they are attempting to validate the results of intrauterine Platelet-Rich Plasma injections for overcoming Asherman's Syndrome and thin endometrial lining. Although the study does not deal with Menopause, it's a vote of confidence for PRP Injection's ability to rejuvenate ovarian tissues.
Get On The Bandwagon
The future of Platelet-Rich Plasma is only looking brighter. Right now, with all these wonderful research going on, those who sit on the sidelines refusing to enter the field and start scoring with Platelet-Rich Plasma are going to miss out. But for those believers, there couldn't be any time more perfect than now. You could be one of the pioneers of this treatment – and who knows, perhaps you'll be discovering new uses of PRP Injections. This is a treatment which is defined by its simplicity and low set up cost. All you need is a centrifuge and a PRP Kit. Start offering Platelet-Rich Plasma treatments today. And yours could be one of those pioneering medical centers in this field.