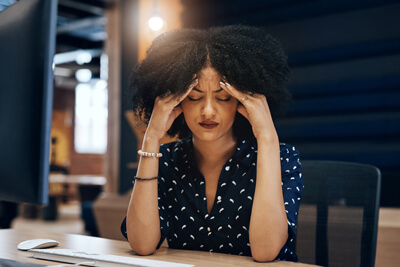 Individuals with myofascial TMD (temporomandibular disorder) are more likely to have a migraine.1 It is also thought that the tightening of temporomandibular joint muscles can cause migraines.
The masseter (chewing) muscle is a temporomandibular joint muscle, and PRP injections can reduce myofascial pain associated with masseter muscles in TMD patients . 2
References
Daniela A.G. Gonçalves, et. al., "Temporomandibular Disorders Are Differentially Associated With Headache Diagnoses: A Controlled Study," The Clinical Journal of Pain 27, no. 7 (2011): 611-15, accessed December 13, 2019, doi: 10.1097/AJP.0b013e31820e12f5.
Aleksandra Nitecka-Buchta, et. al., "Platelet-Rich Plasma Intramuscular Injections — Antinociceptive Therapy in Myofascial Pain Within Masseter Muscles in Temporomandibular Disorders Patients: A Pilot Study," Frontiers in Neurology 10, (2019): 250, accessed December 13, 2019, doi: 10.3389/fneur.2019.00250.